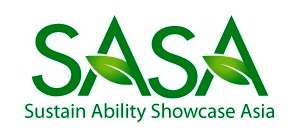 Sustain Ability Showcase Asia (SASA) showcases global applications of sustainable products, services, clean technologies, businesses and people. It presents, promotes and makes these accessible and available to Governments, businesses, organisations and communities in Asia, through Singapore as the Asia-based Eco Hub.
Owned and managed by Sustain Ability Showcase Consultancy Asia Pte Ltd, a Singapore registered company incorporated on 8 September 2010, and established by Ken Hickson  in association with ABC Carbon.
Ken Hickson, Founder Chairman and CEO of the company,  is the author of the widely acclaimed book The ABC of Carbon and leverages his business knowledge, journalistic ability and enthusiasm for all matters environmental to bring clients all the current thinking and actionable advice on how to build and grow environmentally sustainable businesses.
If you want more information on Ken Hickson and his experience and expertise, you can Ken Hickson Resume 1 August 2016
For Ken's latest book "Race for Sustainability" go here for more – including sample chapters – and to buy the ebook or print version:
 http://www.worldscientific.com/worldscibooks/10.1142/8998#t=aboutBook