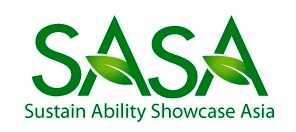 Sustain Ability Showcase Asia, a Singapore sustainability consultancy business, promotes sustainability in business, through events and in the community, through the application of products, services, processes and people.
The company provides market development, government relations and communication expertise to clean tech, clean energy, water management, waste management, and green buildings clients looking to enter Singapore and Asian markets. See the latest run-down on our business – clients and events – as presented to the National Energy Efficiency Conference in Singapore this month, September 2012. SASA A4 brochure 2 sides
SASA also introduces and manages corporate sustainability programmes in the private and public sectors, with a focus on events and energy efficiency, environment, carbon management and corporate social responsibility for business. Read about our successful i Light Marina Bay case study.
For more information, see our Showcase and About Us sections. Please Contact us for more information on our services and how we can assist you in marketing your sustainable and environmental protection products and services.
For articles and information of interest go to Commentary, where you will find articles written by Ken Hickson on – for example – "Multiple Benefits of Energy Efficiency" and "Sense and Sustainability".
For the 100 Global Sustain Ability Leaders 2012, click here.
Go to www.abccarbon.com for more information and read the latest issue of abc carbon express, published jointly by Sustain Ability Showcase Asia and ABC Carbon.